The Beginning
The Gaelic name means Piping in the Triangle. The band got its start with a request for a mini-band to perform at a church service. John and Emily Sprague and John Starke made up the pipe section. Price Oman and Steve Tytran were snare drummers and Evan Tytran played bass. The group's first performance was at the Special Olympics of NC Equestrian Tournament at the State Fairgrounds in September of 2014. It then had its debut at the 35th Anniversary Celebration of the Kirk of Kildaire Presbyterian Church in Cary. Within a few months, the group added a fourth piper, Adrian McNeil. A quartet of pipers expanded the possibilities for harmonization and interesting counterpoint melodies in the music.  In 2017, the band added a tenor drummer, Julia Davis, expanding the range of percussion possibilities.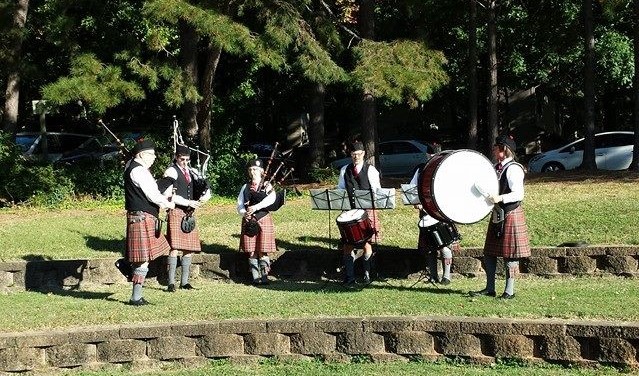 Kirk of Kildaire Presbyterian Church, October 26, 2014
Performances
The band enjoys sharing its music through a variety of performance opportunities. It has played on stage at the Sister Cities Ceilidh at the Cary Arts Center and at  Cary Spring Daze, an annual fair with craft vendors, community organizations and live music. It plays for SCOT (Scottish Cultural Organization of the Triangle) events, international festival events, weddings, funerals, and high school coffee houses. It does educational programs for community groups and schools.  A recurring performance is the annual Raleigh Hall of Fame Inductee Ceremony. The band enjoys the challenge of playing a wide variety of tunes, using different percussion instruments to accent the rhythm and unique styles of music, and meeting requests for a small pipe band to perform in the Triangle area of North Carolina.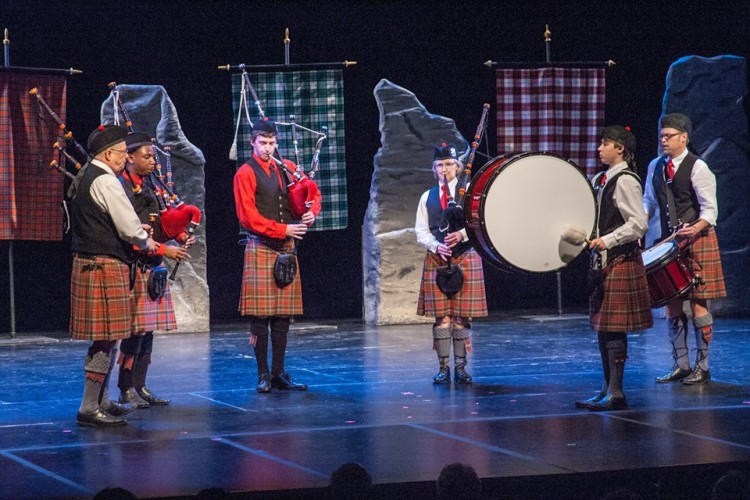 Sister Cities Ceilidh at the Cary Arts Center, April 2015
Uniform
Most bandsmen are alumni of the NCSU Pipes and Drums so kilts are the same as that band, using the weathered colors of the Carolina tartan.