The Beginning
Fire department personnel in the piedmont triad area had been envisioning a bagpipe band since 2012.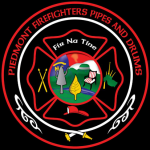 In November 2013, Chief Scott Alderman of the Lewisville Fire Department called a meeting for anyone interested in forming a band. 45 people showed up.  Jim Ritchey was the only one present with piping experience, so he was designated the Pipe Major.  The only drummer in the room, Bradley Fulk, was tasked with finding other drummers.  It was decided to open the band not only to firefighters but to law enforcement, medical personnel, public safety personnel, and civilians as well. After a number of meetings, the name Piedmont Firefighters was chosen to represent that area of North Carolina including Forsyth, Yadkin, Davidson, Guilford and surrounding counties.  Lewisville became the official location of the band, since the band treasurer was there.  The purpose of the band was to provide quality instruction in piping and drumming and to be available to play for fire department events and funerals. Band practices were held at Forsyth Technical Community College in Winston-Salem.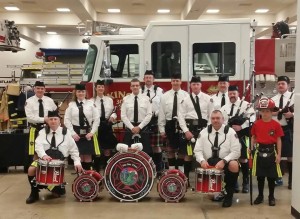 The band gained non-profit status as a 501c3 organization on March 27, 2014, so recognizes that milestone as its official start date.  Charter members included: Pipers Jim Ritchey, P/M, Stephen Tesh as instructor, Marc Thomas, Barry McLean, Richard Washabaugh, Lauren Koehler, Link King, and Adam Moore. Snare Drummers  Aaron Noah, D/S, Michael Wilson, Andrew McLean, Mallory Neeham, Darin Needham, and Bradley Fulk. Tenor Drummers  Cody Mathis and Julie Marshall Ritchey. Bass Drummers  Scott Aldeman, Nick Wylie, and Clint Hunter.
Camaraderie with Other Fire Department Pipe Bands
From the beginning, the band received guidance and support from other fire department and public safety pipe bands across the state.  Adam Snyder of Atlantic Beach participated in the inaugural band meeting via video chat.  Stephen Tesh, the Pipe Major of the Thomasville Fire Department Pipe Band, assisted with instruction.  When the Jamestown Pipes and Drums replaced their drums, the Greensboro Fire Department and the Piedmont Firefighters divided the collection of old drums between the two bands.  An impetus to get the band up and going was the Firefighters Expo held in Raleigh in January.
Uniforms
The band adapts its uniform to suit the occasion.  The dress uniform uses the National Firefighter Tartan.  The less formal kilts are made of fire gear material, black with neon yellow stripes.
Performances
The band enjoys varied performance opportunities.  It regularly appears at the Piedmont Fire Expo. It has participated in 9/11 Remembrance and Brotherhood Celebrations and in local public safety personnel funerals. In 2017, it joined with fellow bandsmen from the Charlotte Fire Department and Mooresville Fire Department pipe bands for performances at the NASCAR Hall of Fame and the South Atlantic Fire Rescue Expo in Charlotte.
Three fire department pipe bands:  Piedmont Firefighters, Charlotte Fire Department and Mooresville Fire Department at SAFRE in Charlotte, 2017.