The Beginning
The Grandfather Mountain Highlanders was founded in 1974 by Harvey Ritch and Agnes MacRae Morton, each of whose histories are intertwined with that of the band.
Agnes MacRae Morton (1897 – 1982) was the co-founder of the Grandfather Mountain Highland Games.  A native of Wilmington, NC, her father created the resort village of Linville, NC in 1889. With help from Donald F. MacDonald of Charlotte, she realized a dream of holding a Highland Games on MacRae Meadow on August 19, 1956.  As the Grandfather Mountain Highland Games continued year after year, she was the guiding light, generously giving her time, talents and foresight to preserving Scottish heritage.  Beginning in 1966, she cultivated a friendship and working relationship with Harvey Ritch who shared her inspiration and enthusiasm for the Games.
Harvey Ritch (1930- 2014) started his piping career with the Charlotte Caledonian Pipe Band in 1965, becoming Pipe Major in 1968.  In 1970, he left that band to form the Charlotte Scottish Pipe Band, made up of young people focused on competing.  That band wore the MacRae tartan in honor of Agnes MacRae Morton.  Harvey opened Everything Scottish, an import shop in Charlotte in 1971.  Mrs. Morton and her son Julian enticed him to re-locate the shop to Invershiel, a replica of a Scottish community built by the Morton family at the base of Grandfather Mountain.  On April 1, 1973, Everything Scottish opened its second store in a Scottish tollbooth structure at Invershiel.  Now living in the mountains, Harvey and Mrs. Morton shared a vision of starting a new pipe band in the area with Mrs. Morton offering $5,000.00 for instruments.  Harvey looked first to area public schools as a source of young musical talent, but band directors were not receptive.  He began offering lessons in Boone, Banner Elk and Kingsport, TN.  By 1974, he had a group made up of former Charlotte Scottish bandsmen and new players from the surrounding area. He worked with Sandy Jones and the North American Academy of Piping to provide quality instruction for bandsmen.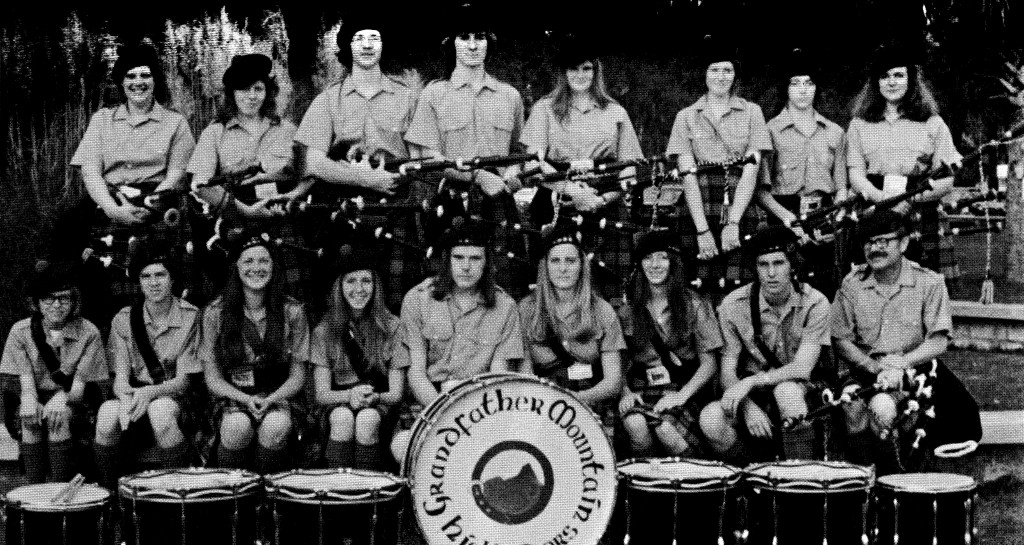 Band in 1974
Uniform
The band's first tartan was the Ancient Hunting MacRae, a carryover from the Charlotte Scottish uniform.  In 1977, the band adopted the Red MacRae.  In 1983, it went back to the Ancient Hunting.  In the 1990's, when weathered colors were in style, it changed to the Hunting MacRae Muted Colors, a gray-brown tartan.  In 2013, it chose yet another version, the Modern MacRae.  The tartan has always been MacRae in honor of Agnes MacRae Morton; the style a traditional civilian uniform.
Focus of the Band
Historically, the band's focus has been to develop younger players and recruit experienced players from a wide geographic area to assemble a top competition band.  Every few years, the band starts a lower grade feeder band.  Linville serves as the band's headquarters.  In the early days, band practices were often held at Everything Scottish.  Later, practices were centrally located to all players meeting at different times in Morganton, Charlotte, Statesville or Hickory.  In 1986, members of the band drove from Hickory, Morganton, Charlotte, Waxhaw, Greensboro, Boone, Roan Mountain, Spartanburg, SC, Elizabethton, TN, and Stone Mountain, GA.
Competition
The band has competed in Grades 2, 3, 4 and 5, generally fielding a band at the top grade amongst North Carolina bands.  Of all NC bands, the Grandfather Mountain Highlanders has traveled further than any other to enter competitions across the eastern US, in Canada and in Scotland.  The band has won numerous times at southern contests, and in the north at the Colonial Highland Gathering in Fair Hill, MD, the Capital District Scottish Games in Altamont, NY, and the Virginia Scottish Games in Alexandria.  They competed for seven years at the North American Championship in Maxville and the Montreal Highland Games in Canada.  They traveled twice, in 2005 and 2010, to the World Pipe Band Championship in Glasgow.
                                                                                                          1981 at Invershiel, in front of Everything Scottish
Performances
With a focus on competition and with band members spread out, the number of band performances each year is limited.  However, two annual performances have been at the Queens Cup Steeplechase in Waxhaw each April and an Art in the Park in Blowing Rock each August.  Notable performances over the last 40 years have included:
St. Patrick's Day Parades in Charlotte and Roanoke, VA
Virginia Highlands Festival in Abingdon
Tusculum College Commencement
100th Anniversary of Biltmore House
Rod Stewart's 1990 Tour
Eastman Corporate Event
Honda Corporate Event
Appalachian State Diversity Events
Meals on Wheels Annual Fund Raiser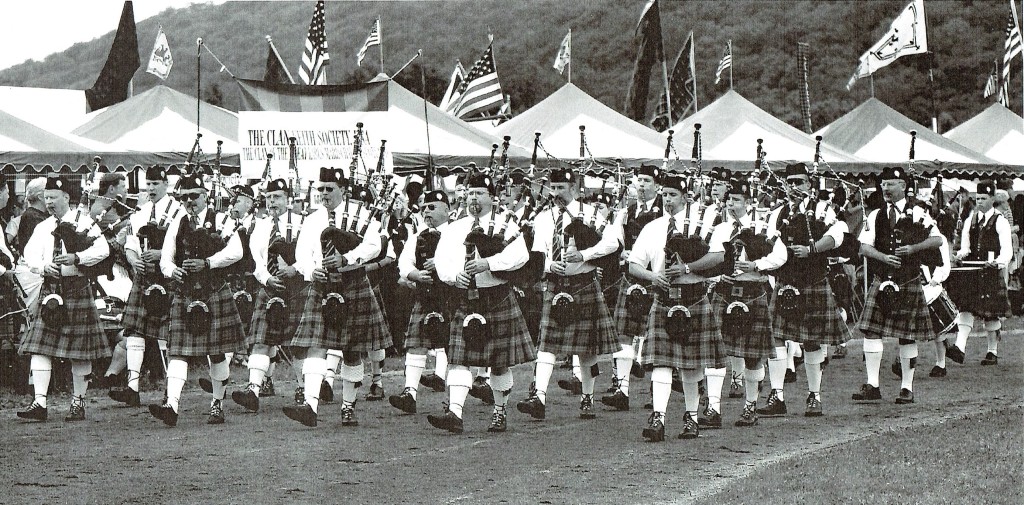 1999 at Grandfather Mountain Highland Games
Recordings
The band has made two recordings, one in 1987 titled The Grandfather Mountain Highlanders Pipe Band and the other in 1993 titled Another Side of the Mountain.
Band Is Like a Family
Members of the band often comment on the "family feel" of the band.  With younger players involved, parents provide behind the scenes support.  New players sense the encouragement and support from extended family and fellow bandsmen. Clan MacRae has also been a source of steady support from the beginning. Like all groups, the band has weathered some ups and downs throughout its long history but it continues on, believing that no matter what, the organization must endure.
Pipe Majors
1974-1981 – Harvey Ritch
1981-1983 – Ken Swinton
1983-1986 – Ed Krintz
1987-1990 – Bill Caudill
1990-1994 – Ed Krintz
1994-1996 – Scott McLeod
1996-2006 – Gordon Warburton
2006-2008 – Justin Gonzalez
2009 – present – Gordon Warburton